Hipporay Daycare
Making Learning Fun for Little Ones!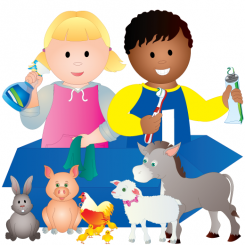 April 2020
Ce produit n'est plus disponible à la vente.

Down on the Easter Farm
Come on down to the farm and join the party! This year, celebrate Easter with all the farm animals, from soft, fluffy chicks to pigs covered in mud! You'll learn all about chicks hatching from eggs… and chocolate eggs.
Let the Easter egg hunt begin!

Toothy Grins
Crunch, crunch, teeth are so important! Join us to learn all about teeth and how to take care of them!