About Us
Our Story
Every month, more than 20,000 children create, play and learn through our Activity Boxes…
When we started our parent company, Ziraf Inc., in 2001, it was like each of us had had a fourth baby. It kept us up at night, we couldn't bear the thought of leaving it (we still can't), it filled all our thoughts (it still does) and our greatest wish was for it to happily grow and thrive!
At first, our main goal was to offer new, inspiring, colourful and fun preschool products for Family Daycare Providers. Even now, many years later, we always keep that in mind when creating new products.
Interesting Facts:
Our adventure began in 2001 with our French-language Mixed-Age Activity Box tailored to Daycare Providers' needs.

That same year, we won first place in the local and regional levels of the Quebec Entrepreneurship Contest. We were off to a good start! And in 2006, we were also recognized by the South Shore Chamber of Commerce.

Our French-language Tot Box, geared toward daycare toddlers, was added to our product line in 2007.

Starting in 2009, we began offering a similar format of our ever-popular Activity Boxes, but this time adapted for parents of young children.

Which brings us to Hipporay! Finally, in October of 2014, we launched our products in English. One of our co-owners is a native Anglophone and is proudly overseeing this adaptation. We are all so excited to finally be able to share our Activity Boxes with the English-speaking community!

Since 2001, we have sold over 200,000 Activity Boxes to thousands of satisfied customers!

We started the company in each of our basements, but very, very quickly invaded our families' living space and had to move to much larger quarters at the beginning of 2002. Our offices and warehouse are now located in the industrial area of Longueuil, Quebec.
Every month, more than 20,000 children in Canada create, play and learn through our Activity Boxes in their daycare setting or at home with Mom and Dad. Our customers often tell us how excited the children are when they see an Activity Box being delivered! They want to immediately open the box to see what's new and exciting! They know that when their Box arrives, it means they're going to have fun!
Our Team
Today, Hipporay and Ziraf can both count on a great team that strives to make sure all our customers have an enjoyable experience on every level.
So here we are, Jessica and Kathleen, many, many years after we started our company. Over the years, all the consultants we have met with have wanted us to delegate, delegate, delegate… even delegate the creating aspect of our company to concentrate our time and efforts on other tasks. No way! We absolutely loooooove what we do and wouldn't dream of letting anyone else have the pleasure of creating and planning the activities! Knowing the fun children, daycare providers and parents will be having with the programs we have put together… that is our greatest reward.
Knowing the fun children, daycare providers and parents will be having… that is our greatest reward.
If you call our offices, you will have the pleasure of meeting Stephanie, our customer service rep. She spends her days answering your questions, offering advice on choosing the right product for your needs and processing orders. Even when the phone is ringing off the hook and orders are piling up on her desk, she always has a smile on her face! Luckily, she has Raphaele and Melanie, our French-language customer reps, to count on. Their years of experience and their support make her day so much easier.
Aside from our great activities, do you know what makes our customers come back month after month? Our cute characters and colourful drawings! Each month, our three very talented graphic designers create new drawings that appeal to both the young and the young at heart!
Since September 2013, we have been busy adapting our Activity Boxes to English and making sure our Hipporay Activity Boxes are everything you are expecting… and more!
We often refer to our Workshop Team as our "Busy Bees" as they're always excitedly buzzing and bustling around! Every day, our staff can be found counting, counting and recounting hundreds of thousands of feathers, pompoms, googly eyes, sheets of construction paper… ensuring that all the children receive the necessary supplies for their activities.
We are really looking forward to meeting all our new English-speaking customers and embarking on this exciting adventure with you!
Hip… Hip… Hipporay!
Jessica and Kathleen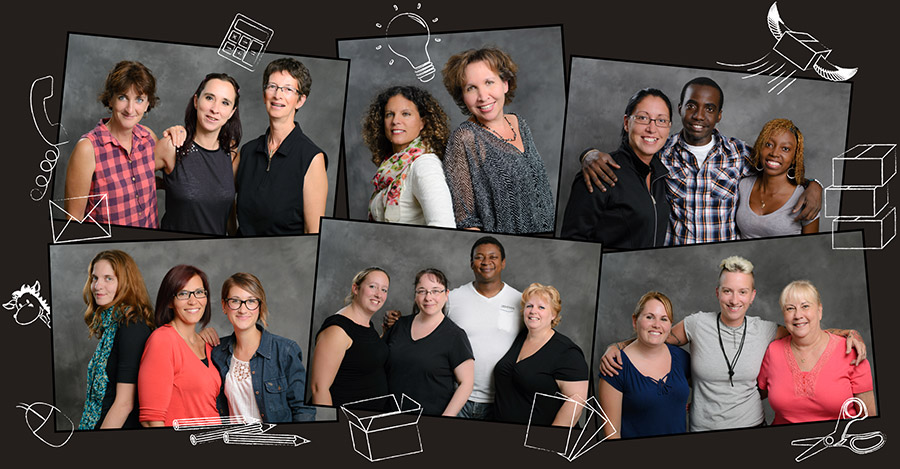 Our Team, September 2014
Top: Raphaele, Mélanie, Martine, Jessica, Kathleen, Julie, Pierre-Richard and Sophia
Bottom: Caroline, Sonya, Sophie, Marie-Josée, Manon, Mamadou, Johanne, Liza, Lou and Ginette
Photographie : Mélissa Routier