Hipporay Daycare
Making Learning Fun for Little Ones!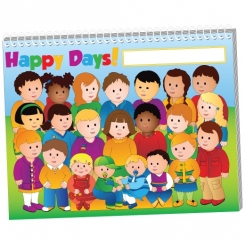 Happy Days!
SPECIAL PRICE FOR SUBSCRIBERS: $11.00
An easy to fill-in journal that offers parents a positive peek into their child's day and activities!
Beautiful Full-Colour Journal
Convenient size of 7 inches x 9 inches (18 cm x 23 cm)
Spiral bound
Vinyl protective cover sheet
Inside pocket to send documents home
52-week format without dates (can be started anytime)
One week on two pages
Simply check the appropriate box in each section (mealtime, naptime, playtime, outings and today's weather)
Free pages for child's keepsakes or creations
Each week, a section is reserved for parent-provider exchanges
And a little something MORE: lots of cute colourful images, special notes, and activity sheets can be printed out from our Customer's Corner and added to the journals!
For large orders (over 20 journals), please call our Customer Service Representatives at (450) 442-1242 or toll-free at 1-844-442-1242.